Deployment Designer
I briefly mentioned the Deployment Designer in one of my earlier posts.This is a great tool for not only validating current systems against proposed solutions but also for trialling different deployment strategies.
What you are actually doing is mapping the system onto a logical datacentre, otherwise known as Binding.
As well as full validation check, the Deployment diagram will check and validate the topology, hosting relationships and the existence of valid end-points, as you drag and drop system components on the diagram.
The full validation consists of checking communication pathways between applications and the Settings and Constraints defined in the Logical DataCentre diagram created.
Its as easy as:
Right clicking on the Application Designer and selecting Define Deployment from the menu.
Choose a logical datacentre diagram to validate against.
Drag and drop your system components onto the diagram

The deployment designer initially looks identical to the logical datacentre designer but now there is a system view window that contains the created system components from the Application Designer.The settings and contraints are all viewable from the deployment designer but not actually editable. The logical datacentre diagram can be edited directly and the changes are synched with the deployment diagram.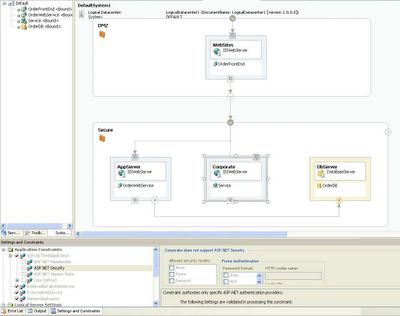 I wanted to show a quick example of the pre-validation checking. In my LD diagram, I put a constraint on my WebSites web server in the DMZ (inbound end point) to not allow web service calls. Now in my deployment diagram, if I select my web service I created for orders, it physically will not let me place it in on the WebSites server. I put it on the App Server instead because it is defined to allow web service calls.

Once I have mapped the system onto the logical datacenter, I can now validate the deployment by right clicking on the diagram and selecting Validate Diagram. If there are no errors it will validate correctly with no errors or warnings, otherewise the errors or warnings will appear in the error list (like compile errors). Just as you would expect, double clicking on the errors takes you to the relevant settings and contraints section that needs to be addressed. Very nice.