More designers? Sounds logical.
I have been using the Logical Datacentre Designer in my exploration of Team Architect and it is looking fantastic. The LD designer is used to create diagrams that represent interconnected logical servers that represent a given system. These are going to be a great source of information for developers when they need to know about the target deployment environment.
Anyway, I setup 2 zones, one DMZ and one Secure. I then added some logical servers simply by dragging and dropping them on the diagram and finally connecting them up. I have to say the ui is great to work with. It is very similar to my EAI development using
WebMethods
and playing with
Biztalk
. Personally, I love a nice, clean visual dev environment no matter what I am developing in. Stimulates my senses more……but that's another story :)...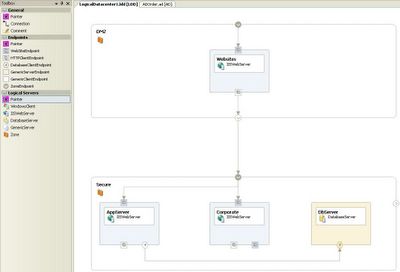 Using the Settings and Constraints editor, you can specify the configuration of applications that will sit on the logical servers within the datacenter. For example, ASP.NET security setting constraints for applications hosted on a web server.The level of configuration through out the server types is quite impressive.
You can then trial deploy your system against the settings and constraints that have been defined in the LD designer, to make sure that it will validate in the logical datacenter environment. I think that this particular functionality is gold from a dev point of view as the system limitations/constraints are known up front so there is little room for last minute code/config changes in rolling out systems. I will talk more on deployment in my upcoming Deployment Designer run through.