VSTS Architect Designers
The Application Designer (formerly known as Application Connection Designer) is used to provide a graphical representation of applications that comprise an existing system including connections between them and services offered. Connections are made between applications via their endpoints. More here.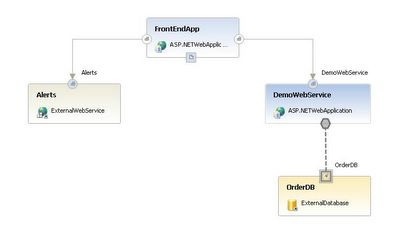 These applications may already exist in the system or alternatively, they may represent systems that are going to be built.

A few things to note:
When you add an ExternalDatabase object to the diagram, you don't actually configure the connection properties of the database until you create the connection between the database and a particular application.
An external web service end point CANNOT be edited due to it being an external resource.
The ASP.NETWebService object will appear in the app diagram as an ASP.NETWebApplication. Its the endpoint which distinguishes it as a web service as
opposed to web content for an actual web application.

Adding methods to the proposed web services is a breeze. In the web service details window, select the web service and click on to add the name of the method. Scroll across to the right to fill in the return type and optionally the modifier and summary.
To add parameters, expand the method to reveal and type in the desired parameter name and specify the type. You can also type in a left bracer ( after you define the method return type to automatically go into adding a parameter name. The intellisense here in the type definition is a nifty feature.



Now the cool thing is you can implement the web service you just created in the diagram by right clicking on the web service and selecting Implement Application. This will create the relevant files and skeleton code for the web service ready to be physically implemented! Great stuff. Using the Visual Web Developer Web Server, I tested my web service on the fly without having to worry about configuring and publishing to IIS.